30+ years Tuning & Repairing pianos
Prices from only £80
Call Now: 07967 740623
Pete the Piano Man offers a range of services, from piano tuner and piano repairs services, to restored pianos for sale. You can also book Pete as your Wedding Pianist or for other events.
Covering Leicestershire, Loughborough & Beyond

With over 30 years experience in tuning pianos, Pete the Piano Man (Pete Allen) can come to your home & tune your piano, bringing it back to its former glory.
Prices from only £80.

As well as tuning pianos, Pete the Piano Man has decades of experience repairing pianos, so if you have any problems with your piano, contact Pete today to find out if he can help & get a quote.

If you're looking to buy a refurbished piano delivered to your home then check out our latest offers on our pianos for sale page or contact Pete the Piano Man to find out what he has in stock.

A live musician can add so much atmosphere to your wedding reception or party. Pete Allen is an accomplished pianist with over 30 years of experience. Get in touch to book Pete for your wedding!

Whether you're looking to move house, or any other reason you might need to transport your piano, we can help! We have all the equipment needed to move your piano safely from A to B. Find out more!

You can book Pete the Piano Man to play a wonderful cocktail selection of jazz standards, rat pack and classical music for your party. Get in touch for details (also happy to travel so get in touch).
Book One of our Services Today!
Give Pete a call today for more information or to schedule an appointment
Call 07967 740 623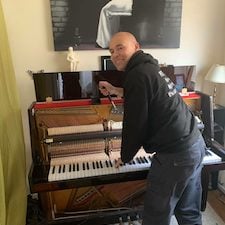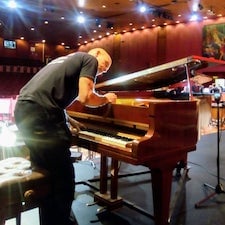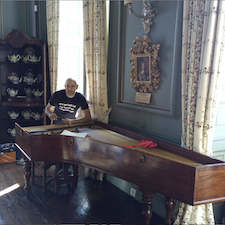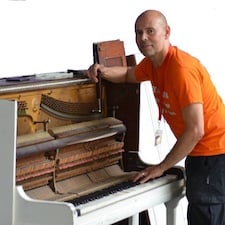 the piano man HAS been busy
Below are just a few reasons why Pete the Piano Man is the man for the job!
Find out what our customers are saying about Piano Tuner Repairs and read more in our Google Maps listing.
"Having my piano tuned by Pete was a thoroughly enjoyable experience.
My poor piano was long overdue a tune but Pete was complete un-phased, carried out the work along with a smile and a chatty disposition, leaving it sounding and looking perfect and having brightened up my day.
His prices are more than reasonable and his manner is an absolute breath of fresh air. I know I won't be going anywhere else for anything piano-related now."
"Brilliant tuner, teacher and restoration service. Had lessons with Pete and he's a very kind and patient teacher."
"Genuine, Knowledgeable, Professional:
We had recently purchased a piano and knew little about it's maintenance and care. Pete was able to explain and demonstrate to us how it was all assembled and worked, and also what was required to keep it all in its best condition.
Very happy with His services and would highly recommend Him to any one with a piano in need of care."
"5 star service – bought a great piano from Pete and had it delivered at a very reasonable price. Pete now tunes it when required so it always sounds fantastic!"